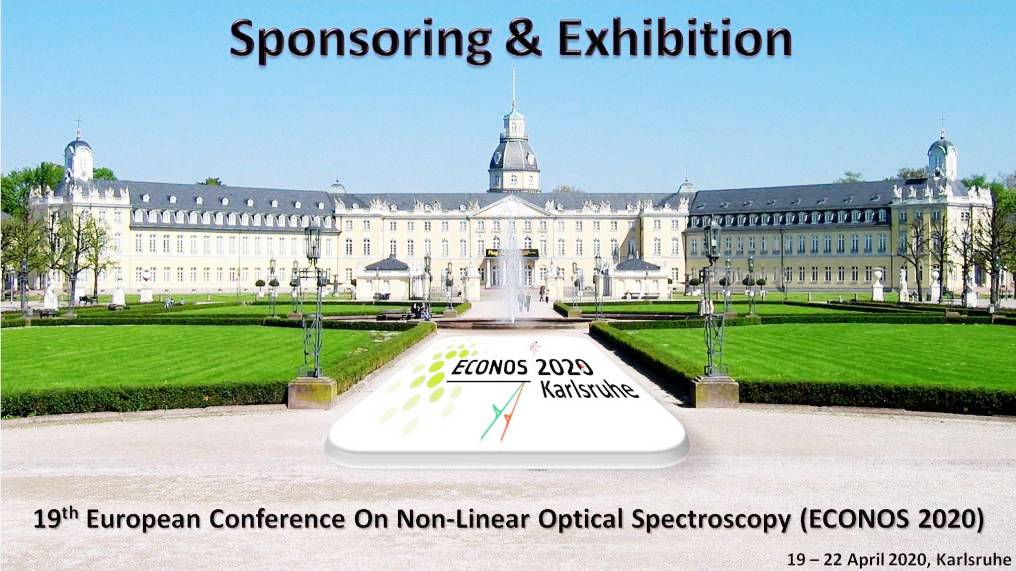 ECONOS 2020 directly targets key individuals in the field of nonlinear optical spectroscopy. An expected number of more than 90 delegates make ECONOS 2020 the place for companies to meet experts and decision makers.
The organizers invite you to become a sponsor and to participate in the exhibition accompanying the conference. As an exhibitor or sponsor you enhance your corporate visibility among the European non-linear spectroscopy community with. Get in contact with high-quality participants at this event and promote your products and services to an exclusive audience.
The exhibition will be held in the AkademieHotel located at Rüppurerrschloß in Karlsruhe, Germany (–> Conference Venue). In ECONOS 2020, the poster sessions and coffee breaks will take place in the Exhibition room to offer our sponsors maximum possible interaction time with our attendees.
We are committed to working with you to ensure you get the best return on your investment and that the event is a rewarding experience for your company. Sponsoring & Exhibition Application (SEA) including essential information for sponsors and exhibitors, as well as participation fees, can be downloaded from the link bellow. Sponsors can also request giving a Talk in the industrial session. Note: There are limited time slots in the industrial session. If your company is interested in giving a talk, please contact us as soon as possible.

*Please note that the application for Sponsoring and Exhibition 2020/2021 has been temporarily  suspended.
---
Technical Remarks:
Floor plan: A tentative distribution of the show tables and poster stands can be downloaded here. (Please not that this is a tentative plan and may change later).
Booth: Only show tables and chairs are available. However, the sponsors are welcome to bring their own booth constructions, provided that the area of the booth doesn't exceed "220 cm x 220 cm" per booked show table. The booth construction cannot be screwed to the floor or walls.
Installation and de-installation: The exhibition room will be available for the Exhibitors from Monday 20th April at 08:00, to Wednesday 22nd April at 14:00. We expect the exhibitors to finish their installation before the first coffee break on Monday (09:45). All coffee brakes and poster sessions will take place in the exhibition room to allow for maximum contact between participants and
Logistic details:
For information on local freight forwarder, delivery address, timings and contact for receiving the goods, specific restrictions etc., please contact,
Mrs. Jennifer Lepold (Event organization in the hotel)
Fon: 0721 98 98-429
Fax: 0721 98 98-428
Jennifer.Lepold@bwgv-hotel.de
Baden-Württembergischer Genossenschaftsverband e.V.
Am Rüppurrer Schloss 40, 76199 Karlsruhe
www.bwgv-hotel.de
---
If you have any inquiries, please contact us at info@econos-online.org
We are looking forward to welcoming you at ECONOS2020.
---